Previous, Next, Contents, Home.

Digifant Fuel Pressure Regulator
The Digifant fuel pressure regulator shown in Fig. 4-19 is a diaphragm-type, similar to that used on CIS-E systems. The most significant differences are that Digifant operates at lower system pressure, and that a vacuum line connection to the intake manifold varies system pressure according to changes in engine load (intake manifold vacuum).
| | |
| --- | --- |
| Fig. 4-19. | Schematic view of Digifant pressure regulator. Vacuum hose connection to engine intake manifold adjusts fuel pressure at high engine loads. |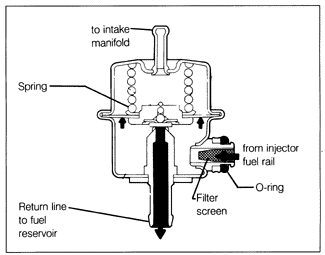 The pressure regulator is mounted to the end of the fuel rail which supplies the fuel injectors. It is not adjustable and should be replaced if system pressure is not within specifications given in 7.5 Fuel Pressure Tests and Specifications.
Previous, Next, Contents, Home.