Admin
Создатель сайта
Команда форума
Сообщения

10 573
Реакции

3 921
Город
Авто

VW Tiguan 2.0 DBGC 2018, VW Touran 1.6 BSE 2008
The High-Voltage System in the Volkswagen ID.4
Self Study Program
Table of Contents
Introduction
High-voltage System Overview
Wiring and Connector Concept
High-voltage System Components
Thermal Management
High-voltage Safety Concept
Driving Mode Selection
Introduction

The VW ID.4 High-Voltage System
The high-voltage system in the
Volkswagen ID.4
is completely redesigned to integrate seamlessly with the MEB platform architecture.
The battery is a part of the vehicle chassis, mounted low in the vehicle to provide a lower center of gravity.
The ID.4 will initially be offered with an 82 kWh (gross) battery and a rear-mounted motor with 201 horsepower and 228 pound-feet of torque.
Prior to launch, the Environmental Protection Agency (EPA) estimated 250 miles of range on VW ID.4 1st Edition and VW ID.4 Pro 82 kWh rear-wheel-drive models on a single battery charge.
An all-wheel-drive version with 302 hp will follow later in 2021.
At market introduction the Volkswagen ID.4 will be equipped with a 82 kWh battery. A 62 kWh variant will be available later.
The 82 kWh battery has 288 cells in 12 modules. It is housed in a lightweight aluminum structure that is bolted to the body of the VW ID.4, helping to improve rigidity.
The VW ID.4 can be charged with both alternating current (AC) and direct current (DC) fast-charging capability.
The onboard charger allows the ID.4 to charge the battery up to 33 miles in about one hour, and charges to full in around seven and a half hours at a home or public Level 2 charger.
At a DC fast-charging station, with 125 kW charging, the VW ID.4 can go from five to 80 percent charged in about 38 minutes.
Component Location and Information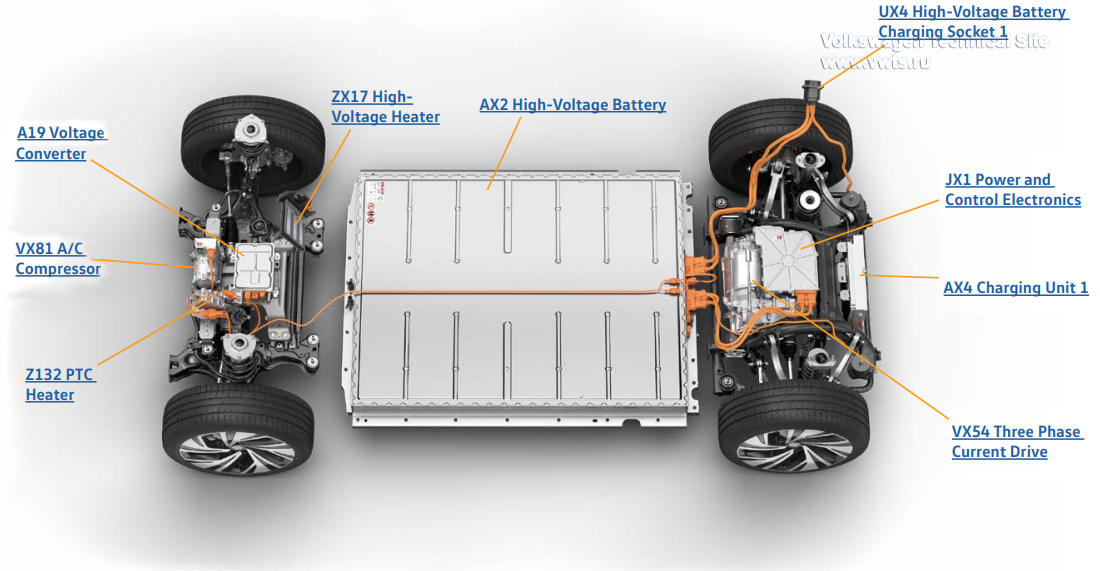 High-Voltage Battery 1 AX2
AX2 Specifications:
Weight
842 - 1109 lb (382 - 503 kg)
Net Energy Content
58 kWh to 77 kWh
Nominal Voltage
400 V
Cell Technology
Number of Modules
Capacity
Li-ion prismatic/pouch
9 - 12
156 Ah to 234 Ah
Cooling System
Liquid Cooling
Operating Range
-18 to 140° F (-28° to 60° C)
Protection Range
IP6K7, IP6K9K
Three-phase Current Drive VX54 with
One-speed Transmission 0MH
VX54 Specifications:
Weight
198 lb (90 kg) including JX1
Output
Maximum 201 hp (150 kW)
Torque
Max. Engine Speed
Transmission Ratio
Maximum 228 lb/ft (310 Nm)
0 - 16,000 rpm
12.976:1
Drive Shafts
Inserted
Manufacturer
Volkswagen Kassel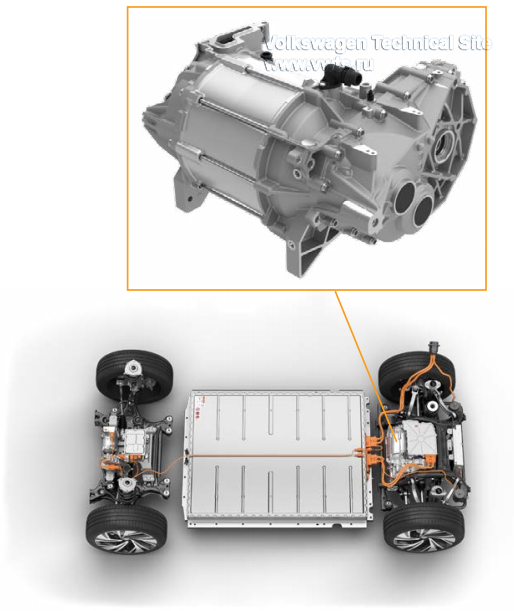 UX4 Specifications:
AC
– Connector J1772
– Number of Phases 2-3
– Max. AC Charging capacity 7.2 kW - 11 kW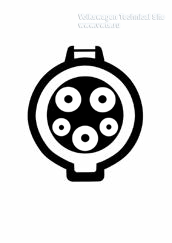 DC
– Connector CCS (Combined Charging System)
– Max. DC Charging capacity 50 kW - 125 kW
– Communication:
• PLC (Power Line Communication) communication with the charging station / charging cable
• HLC (High Level Communication) for communication with the vehicle
Charging Unit 1 for High-Voltage Battery AX4
Charging Unit 1 Specifications:
– Input 78 V to 272 V
16 A to 50 A
– Output 220 V to 470 V
– Number of Phases Two
– Max. AC Charging capacity 7.2 kW - 11 kW
– Efficiency 94%
– Operating Range -40° F to 149° F (- 40° C - 65° C)
Power and Control Electronics for Electric Drive JX1
JX1 Specifications:
– Voltage Range 150 V to 475 V
– Maximum Current 450 A
– Frequency 9 Hz to 10 Hz
This component has an integrated capacitor, which is why a secondary
voltage check is required when de-energizing the high-voltage system.
Air Conditioner Compressor VX81
VX181 Specifications:
– Type Scroll Compressor
– Voltage 195 V to 470 V
– Functional Engine Speed 600 to 8,600 rpm
– Max. Power Consumption 5.5 kW
– Ambient Temperature:
• Air Conditioning Mode 23° F to 158° F (-5° C to 70° C)
• Capable of Communication -40° F to 158° F (-40° C to 70° C)
– Refrigerant for USA R1234yf
– Refrigerant for Canada R744
PTC Heater Element 3 Z132
Z132 Specifications:
– Nominal Voltage 150 V to 475 V
– Activation 0 - 100 %
– Max. Power Consumption 5.5 kW
– Input Current Maximum 30 A
– Communication LIN-bus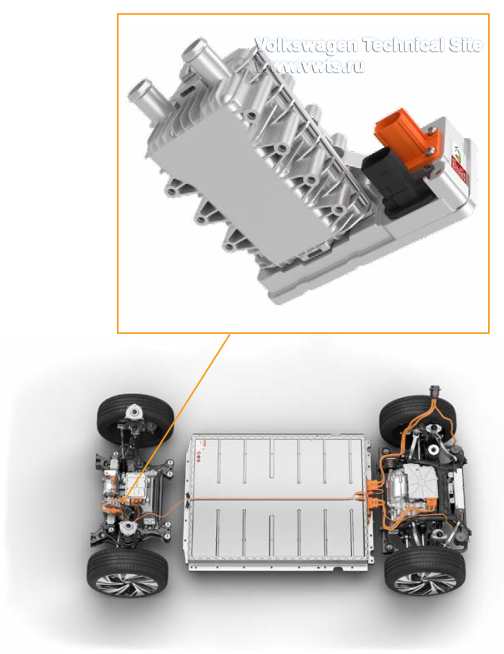 Voltage Converter A19
A19 Specifications:
– Nominal Input Voltage 150 V to 475 V
– Charging Power 12 V 3 kW
– Diagnostic Address 8105
High-Voltage Heater (PTC) ZX17
ZX17 Specifications:
– Nominal Voltage 150 V to 475 V
– Activation 0 - 100 %
– Maximum Power Input 6 kW
– Input Current Maximum 21 A
– Weight 4 lb (1.9 kg)
– AC/DC Isolation > 10 MOhm
– Communication LIN-bus
Последнее редактирование: